About Us
Ethereal Innovations is an investment group, consulting team, and marketing agency with a higher purpose.
Kurt Uhlir originally formed Ethereal Innovations to consolidate his investments, intellectual property, and a number of regular consulting projects. In 2013, Valerie Uhlir founded our boutique marketing agency, specializing in helping high-growth brands tell stories that accelerate sales. She had been working with a large number of clients since 2008 and quickly grew our marketing practice. Today, most people around Atlanta know Ethereal Innovations for our marketing agency and our ability to launch high-growth companies and serve as interim CMO/head of marketing when your team needs a key performer to "fill in the gap".
We have a unique perspective on growth. Our team has invested in more than 40 startups over the years, sat on the boards of many others, and held leadership roles from startups to public companies. We know "growth" and how important it is to make sure the data is leading towards increased sales. Combined with Valerie's incredible storytelling approach to marketing, our team will create a growth-focused marketing strategy and can implement it for you if too.
Here's a little more about our team below.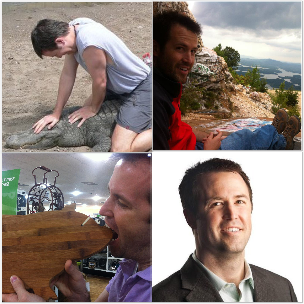 Kurt Uhlir, Founder and President
Kurt prefers the title Chief Servant – lead with love and alongside everyone on the team. Since starting his first company at 14, this Kurt has led teams in social, location and mobile across six continents.
He was on the front lines at NAVTEQ, helping define the spatial and location-based industries. During his tenure leading competitive strategy and business affairs at Navteq, they grew annual revenue from $80 million to more than $1.4 billion, including an $880 million IPO in 2004 and 2008 $8.1 billion sale to Nokia. In addition, he also led global skunkworks teams and is the lead inventor on fundamental patents covering all check-in services and mobile advertising – 16 U.S. and international patents.
Three years after the sale to Nokia, Kurt joined the team at Vitrue where he served as Director of Emerging Technology before being promoted to Director of Corporate Development only 6 months later, leading their acquisition, partnerships, and growth strategy, through the sale of the company to Oracle.
Kurt then served as CEO and co-founder at Sideqik – one of the first influencer marketing platforms. Sideqik is continuing to build Atlanta's digital marketing hub. Kurt assembled the initial team and oversaw the first three years of operations, including raising $1M capital raise from Bee Partners, Rincon Venture Partners, and a group of prominent angel investors as well as the company becoming the platform of record for marketing teams in eSports, gaming, and nutrition industries. Customers included top brands such as CBS Interactive, BenQ, Harmonix, HyperX, Hansgrohe, KontrolFreek, Supply.com, MuscleTech, and dozens of others.
Read more of Kurt's story on his website at KurtUhlir.com.
Valerie Uhlir, Partner
Valerie is an executive with a passion and talent for accelerating new businesses, from shaping marketing strategy, developing go-to-market plans, building organizational process and mentoring talent.
Valerie works with high-growth global brands providing leadership, strategy, and execution in both B2C and B2B settings. Some of the brands she has worked with include The Iron Yard, Softwear Automation, CBS Sports, Lighthouse Family Retreat, Carhartt, Shop-Vac, Buck Knives, Zippo and dozens of Atlanta based technology companies. Her digital strategy and efforts have been recognized and awarded, including earning one of the 50 most engaged workplaces in America. She serves as Partner with Ethereal Innovations and leads all of our marketing engagements.
She is on a mission to rescue companies from boring, lifeless, fact spewing marketing communications by becoming more personable and fun.
Allison Hobby, Office Manager
Allison is the kind of office manager a CEO dreams of. She has the foresight to anticipate needs, keeps things scheduled and has great organizational skills to keep things smooth around the office. We are excited to have her on the team!
Over the last ten years, we have built working relationships with a diverse and highly talented group of specialists including:
Marketing Strategists
Copywriters
Trend Experts
Consumer and Trade Promotion Specialists
PR Experts
Freelance Designers
Our relationships along with diverse client portfolio allow us to scale our team to meet our clients' needs, without charging you for the overhead of "bloat" that most agencies have to maintain.
Internships:
The Ethereal Innovations marketing team is always open to internships.  Fill out the contact us form for more information about opportunities to grow your marketing knowledge.
Our interns have come from schools such as Emory University, Spelman University, Savannah College of Art and Design (SCAD), and the University of Georgia.  We accept a variety of majors, as long as you have a passion for digital marketing, social media, blogging, content marketing or apps/ location-based marketing. The culture is casual and fun, we take ice cream breaks, have the occasional hack night, chili cook-offs…you get the idea. We take our work seriously and never stop learning. As an intern, you'll attend classes to stay on the cutting edge. Digital marketing is always changing and you'll finish our internship with the ability to know how to stay up-to-date in digital.
What we want to know from you: Name, email address, school and a little about yourself. Tell us why you rock and prove to us that you are on multiple social platforms (if you don't use it, you can't understand it.) We will get right back to you.