Careers – Ethereal Innovations digital marketing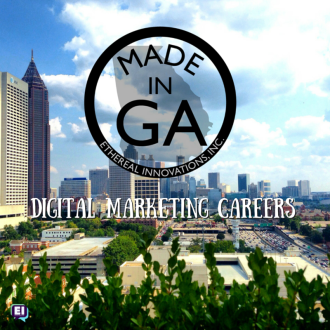 If you are interested in growing your career in marketing, food we have open part time positions as well as internships available. Perks include: no dress code, free snacks and drinks, many opportunities to grow and learn, downtown office in Tech Square at ATDC (Atlanta's premier startup environment through GATech), a fun workplace with a team that laughs together and enjoys occasional nerf gun fights in the office.
Open positions:
1. Marketing Manager:
This role will be responsible for the marketing of a B2B technology company. Support staff from our team will help in content creation and social media.  This is a great opportunity to start with Ethereal Innovations and grow with us.  This position will start as contract, with possibility to grow quickly if you can take on more within first 6 months. This role could quickly become a Director role at our agency within a year if done well.
Key responsibilities include:

Development and management of marketing campaigns and service launches.
Creation and distribution of all e-mail marketing, press releases and social media.
Messaging and content development for: advertising, sales presentations, training materials, promotions and case studies.
Writing web site copy, solution briefs and data sheets.
Production and moderation of monthly webinars.
Oversight and management of third-party lead generation programs and relationships.
Working closely with PR agency to generate brand awareness
Project management of all marketing programs including budgets, timelines, vendors, etc.
Researching and establishing relationships with industry experts & analysts.
Job Specifications:
* 2-3 years B2B marketing experience in Marketing.
* Proven track record and ability to function in a rapidly changing environment.
* Proven ability to creatively develop and execute B2B product or service strategies, promotions and plans.
* Excellent communication skills and team-oriented approach to business.
* Must have strong copywriting skills.
Considered a plus:
* Ability to translate technical information into value for non-technical audiences.
* Familiarity with e-mail marketing platforms (i.e. Constant Contact, MailChimp), press release distribution (i.e. PR Newswire, PRWeb), web presentation platforms (GoToMeeting, WebEx) and HootSuite.
* Self-starter with strong planning and project management skills.
* Highly organized, detail-oriented, and able to work under deadline pressure.
* Must have a strong work ethic, integrity and good business acumen.
Contract role with possibility to expand to team member after first 6 months.
---
2. Social Media Specialist: you don't need experience, we will train you in the basics – but you must be an avid user of multiple social media platforms!  This open role will be working with large faith-based ministries and will need to be able to speak to the audience.
Social Media Specialist Job Responsibilities:
Support client accounts with marketing research and write social media content. Participate in creative discussions with the team.
Support company marketing efforts by developing social media content, drafting/formatting/distributing email marketing, drafting blogs, maintaining company calendar and website.
Requires experience with Mac iOS, power point, Word, Excel. [Only avid social media users need apply.]
Stay up to date with our client. Listen to the sermons and podcasts of the ministry. Read their website, daily devotionals and be familiar with the content they regularly put out.
Skills/attributes:
Strong organizational skills, excellent interpersonal communication, can-do attitude, hard working with ability to stay on task, ability to recognize and adapt to changing conditions, willingness to experiment and grow, and pay attention to details.
What you will learn:
Adwords, social media advertising, Basecamp, Trello, Hootsuite (+ other social platforms), Analytics, Research tools, MailChimp + more!
Interested? View PDF with more information at: EI– Social Media Specialist
2. To learn more about our Internship opportunities, visit the Internship page!
Culture at Ethereal Innovations: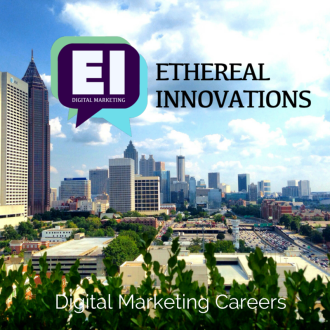 Work hard | Play hard!  We love to surprise and delight our team. Our office is usually playing music and has a large open office with everyone working together in one room. Big bright windows look onto Tech Square – the center of technology in Atlanta, GA.  It is important to us that we do great work for our clients and stay focused, but team lunches, random nerf gun fights, remote controlled office blimps and drone's, push up contests and Wii bowling competitions do happen around here too. Work should be a place that is fun with people you can count on. If that sounds like a good fit for you, let us know!
Vine videos from our office:
1. Clowning around: https://vine.co/v/OPnlqMVF5ea
2. Friday DJ party: https://vine.co/v/OFYnjYYpm7V
3. Roof top view from our building: https://vine.co/v/MQH1vgljEJ6